French banks on track for banking FOR GOOD
From the revolution of SRI savings and social impact loans …
Faced with the challenges of global warming, worsening inequalities and, more generally, a search for meaning that has been highlighted by the recent economic and health crises, the French have become conscious of the need for urgent individual and collective action aimed at bringing about change in their lifestyles and consumer habits. Beyond shopping for food or organic goods and services locally or with a positive social impact, the question is now about household savings. However hard we try to be more responsible consumers, it is clear that, as underlined by Alexandre Poidatz in an Oxfam1 report, "We pollute more through what is financed by our money in the bank than through our own consumer habits."
Moreover, according to the Banque de France, the Covid-19 crisis has generated additional savings of around 90 billion euros over the first three quarters of 2020, or 4% of GDP. The savings rate of the French, which was around 15% in the fourth quarter of 2019, rose to a record rate of nearly 26% in the second quarter of this year and should stabilize around 20% for the year 2020, thus highlighting the issue of how banks allocate our savings.
According to a survey carried out by OpinionWay at the end of October for "Les Echos" and Neuflize OBC, one in two savers is now ready for the first time to prioritize impact over profitability. The current low interest rate environment certainly favours this shift in gear. Nevertheless, savers have become aware of their power to act on the climate and society, by endorsing ethical banks and SRI funds. 64% of French people want to take environmental criteria into account in their financial investments. As sociologist Ronan Chastellier points out, " The French have already understood that buying things is like voting with your credit card; the next step is savings and investments with a positive social impact."
We thus see the emergence of new players with the promise of traceable savings and bank loans, and a guaranteed positive impact on the planet. Whether we're talking about fintechs (Helios, Triodos, Green-Got, OnlyOne), ethical banks such as La Nef or new structures within existing banks such as the Banque de la Transition Energétique created by the Banque Populaire Auvergne Rhône Alpes, which isolates SRI savings and associated financing from its balance sheet to guarantee its savers line-to-line traceability of projects.
Beyond SRI savings and social impact loans, banks are generally committed to climate issues in line with the Paris Agreement, and do their best to ensure that they remain privileged players in supporting the economic and social fabric.
… to a collective commitment on the part of banks to Banking For Good
Banks can now clearly see the need to commit to Banking For Good. A Sustainable Finance Observatory (Observatoire de la Finance Durable) for Paris Financial Centre members was launched at the end of October, in connexion with the French Banking Federation. French banks are multiplying initiatives on environmental, as well as economic and social fronts:
Offer and the relational model
SRI and dedicated low carbon savings funds, green bonds and social bonds and monitoring and traceability systems for the beneficiaries of the funding (websites for customers)
Social impact loans for individuals, businesses and local authorities towards ecological transition, energy renovation, eco mobility
New life insurance contracts based on SRI and / or solidarity funds
Specific offers for customers in financially precarious situations (budgetary support mechanisms, elimination of some intervention costs)
Services to help customers estimate the carbon footprint of their spending
Experts to support companies in their energy transition (real estate, transport / mobility, equipment
Investment and sponsorship policy
Direct investments in sustainable innovation: equity investments in greentechs, crowdlending and crowdfunding platforms focused on renewable energy projects, associations, and the launch of social impact businesses, innovation and social and solidarity economy capital investment funds (the NovESS Fund)
Regional open innovation incubators
Foundations and sponsorship for biodiversity, social inclusion, the creation of solidarity and community projects
Establishment of green economy sectors
Assessing their footprint
Developing demanding sector policies to measure banks' footprints on the most sensitive sectors (creating an indicator of French banks' exposure to coal with a target of zero)
New criteria for granting credit that take the social and environmental impact of financing into account and, on a more general level, that take climate risk into account in the risk policy
Voluntary participation in the first climate change stress tests organized by the French Prudential Supervision and Resolution Authority (ACPR)
Internal policy
Using renewable energy to power the branch office
Supporting measures for diversity, inclusion and disability with company employees
Requests for initiatives from employees and intrapreneurship
Establishing communities aimed at improving employee work conditions
Assorted initiatives, supporting an ethical approach at all levels and in all parts of the organization
Looking beyond the various initiatives and the risk of "greenwashing", the challenge for banks today is to build a global strategy For Good highlighting the sincerity of their approach and its alignment with the Company's purpose. To achieve this, 3 fundamental questions must be asked:
How can I contribute to a better world?
How can I help my clients do this?
How can I contribute to the well-being of my employees?
A five-part analysis of banking commitment and responsibility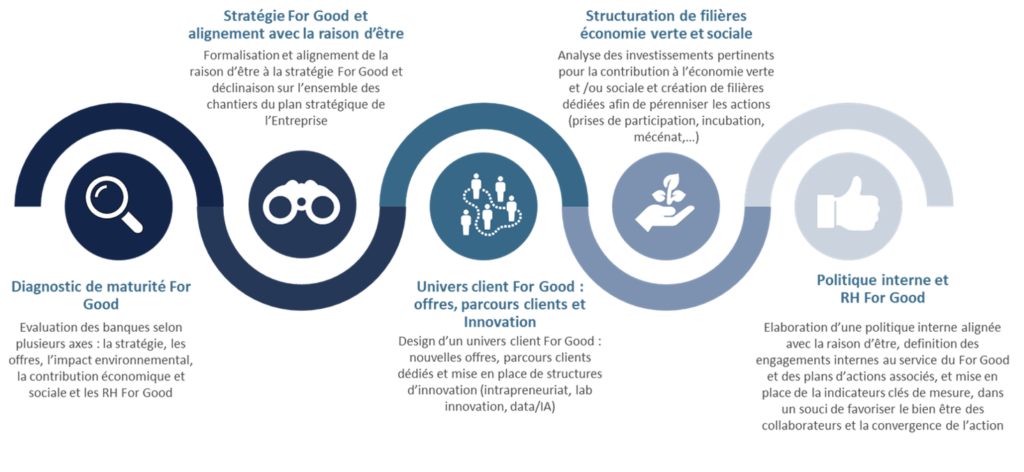 This reflection must begin for the Banks with an ethical maturity diagnosis, in order to establish priorities for actions and above all to build an overall ethical strategy within the bank. This strategy must be aligned with the purpose / mission of the company and be applied in all areas of the strategic plan concerning dedicated targets.
The development of an ethical customer universe based on innovative offers and paths represents another major lever for banks, in line with the strong expectations of customers, who could, in the absence of anything better, turn to specialized players. Banks have a stake in switching from a pattern of random ethical offers to a full range of considered ethical offers,including on day-to-day banking and Insurance with, for example, offers of cashback to reward ethical consumption patterns, preferential rates on home insurance based on environmental housing standards, etc. This approach must be accompanied by an overhaul of propositions for all stages of a customer's life.
As local and economic players, banks can also have a positive impact on society and the environment through their investments and support and sponsorship schemes for sustainable and local projects. The development of a green and / or social economic sector allows banks to organize and perpetuate their actions and the tools they can mobilize locally: risk capital and equity investments, incubation and acceleration of new players, creating foundations and sponsorships etc.
Finally, a Bank For Good addresses the aspirations and well-being of its customers and employees alike. It must ensure exemplary behaviour in terms of internal policy, embody a beneficial collective, give meaning to the work of its teams and guarantee employability, skills development, attractive career paths and the inclusion of all employees.
Instating ethics at all levels of the Company, going beyond organisational silos in order to accelerate transformation
French banks are running with the idea of Banking For Good, developing new initiatives every day. As they advance, they must increase the visibility and clarity of these actions by placing them at the heart of their strategy. In the same way, like data and digital, banks must be careful not to compartmentalise ethical thinking and action For Good. On the contrary, they must integrate it transversally into all businesses and parts of the organization to accelerate this unprecedented transformation and ensure its success.