The iQo Experience
Joining iQo means experiencing daily commitment within a Collective
Our mission is to work with our clients to build the foundations of their own reinvention; in the same way, we re-invent the highlights of the employee journey, from recruitment to personalized support, for career development that respects our four markers:
Do things differently
True parity between women and men
The hybridization of skills beyond traditional business skills
Agility as an element of culture

It's about creating a new culture, a culture of Collective Genius!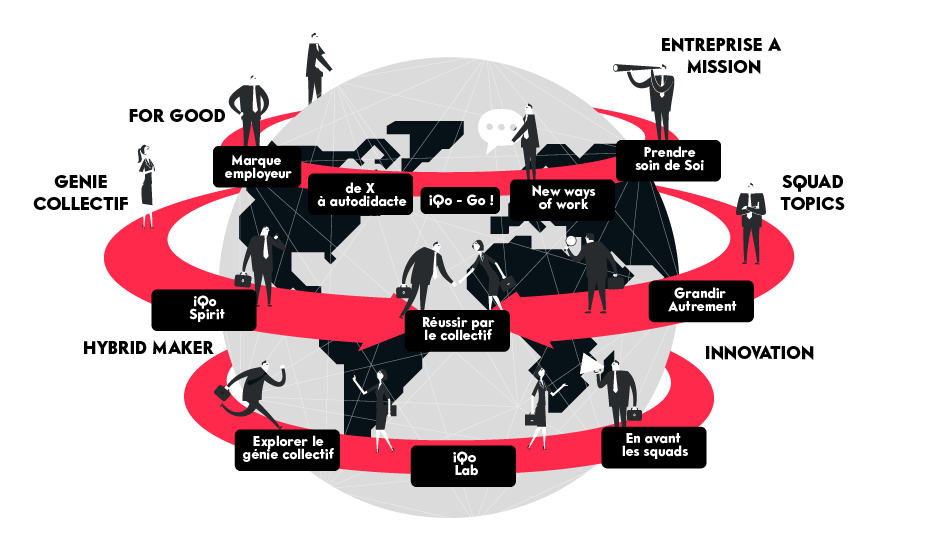 MORE THAN A NEW BRAND,
iQo IS A COMMITTED EMPLOYER
iQers are the strength and commitment of iQo.
We are therefore looking for daring, atypical profiles. In terms of skills and experiences, but above all in terms of personality (soft skills): audacity, sincerity, a sense of the collective, the search for excellence …
iQo is committed to turning our talents into hybrid-makers, enabling them to acquire new skills in addition to basic consulting skills: agility, design thinking, data.
All iQers have a role and a commitment within the Squads, to embody and transmit our Manifesto
BECOME AN iQer – ONBOARDING
We trust everyone to identify and attract unique personalities.
We value the convictions, the personality and the background of each person, trusting everyone to play an active role in Squads and Topics, an agile, horizontal organisation, to create the necessary transformation for the world of tomorrow.
And we offer another recruitment experience: meeting with peers, gamified paths for getting to know our culture and our organisation … because today it is the talent that chooses their environment and their teams.
We encourage the daring and creativity of iQers, so they can work with our clients to build desirable futures together.
Join iQo !
An intense time of dedicated, meaningful integration, with a dedicated advisor, of the same rank to facilitate truthful conversations
And that's it, you are an iQer!
Congratulations! 🙂 Now we can welcome you to Arcade, introduce you to the Squads, give you the choice of how to get involved according to your ambitions and convictions, joining dedicated teams. Collective Genius starts now!
We fight For Good
We believe in Collective Genius
We are Hybrid Makers
#Daring # Sincerity #Excellence
This is what resonates in every iQer: A "Business with Mission" firm since 2020, Organisation by Squads and Topics, A transversal collaboration with WorkPlace by Facebook
EXPLORING COLLECTIVE GENIUS
Hybridisation course, Squad workshops, training, MooC, …
Developing the hybrid qualities of an iQer is essential: of course you will learn through your missions, but you will also benefit from training on the markers that define iQo: ForGood, Data, Design Thinking, Innovation, New ways of Work.
iQoLab is dedicated to Innovation: an essential accelerator for promoting ways of inspiring us collectively, for promoting and sharing information by drawing on the external environment. We work with inspiring and innovative players in our search for inspiration and challenges.
SUCCEEDING AS A COLLECTIVE
At iQo, everyone benefits from the support of a peer, there to offer guidance, a fresh perspective, help taking a step back or discussion without judgement.
On missions, internal projects, or with any teammate, all employees can request 360-degree feedback whenever they want, and ask for details or information.
EVOLVING DIFFERENTLY
Trust, empowerment, continuous feedback, peer support…
We have created iQo without the constraints of evaluations; you benefit from "extended" feedback and not only from your manager or partner, with an assessment process that capitalises on your talents and expands your areas of expertise.
Your peers and your coach thus participate in your assessment allowing you to progress in a spirit of continuous feedback.
A mentoring system is available to all employees, allowing them to discuss confidentially with a peer and in a positive setting all matters relating to the firm and the business. This system is purely voluntary and has no impact on the professional development of employees who choose to access it.
We offer access to equity as soon as you reach managerial level; it may increase according to your development.
GO SQUADS!
Cross collaboration, the richness of the work carried out, the exploration time within the Topics…
One goal: to stimulate our collective genius and innovate.
Our hybridized teams combine skills, experiences and complementary sensibilities and are organised around innovative collaborative approaches and roles that are independent of a person's level within the company.
The Squad is a place for sharing skills, mentoring and empowerment of everyone for dedicated roles and responsibilities. People can take on a variety of different roles within the SQUAD: coach, facilitator, keeper or creative.
For everyone, the squad introduces new working methods and ways of thinking through simulations, as well as empowerment and opportunities to develop autonomy, thanks to the flexibility offered by the squad format.